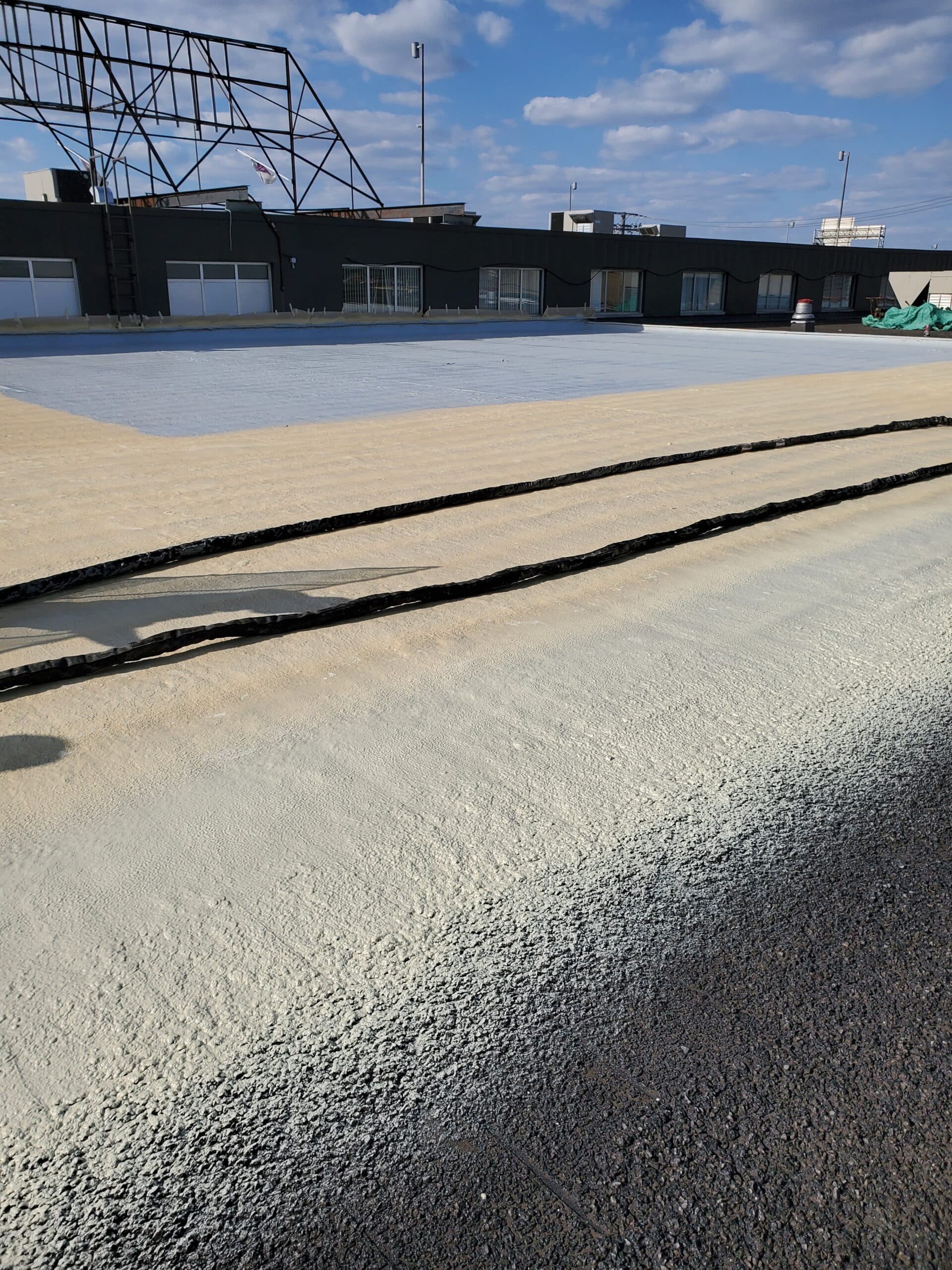 Spray Foam Roofing Systems
At Spray-Tech Insulation, we provide our Eastern Ontario customers innovative solutions for all your roofing needs. Our spray foam roofing system is revolutionizing the roofing world with its durability, energy efficiency, and cost-effectiveness.
What is Spray Foam Roofing?
Spray foam roofing is a cutting-edge roofing system that have been in place for over 40 years. It combines insulation and waterproofing in one seamless application. The polyurethane foam expands into all areas of the roof deck, forming a seamless, monolithic layer that adheres tightly to the roof substrate. Along with a suitable coating, it creates a long-lasting, durable barrier against the tough Canadian elements.
Benefits of Spray Foam Roofing
Energy Efficiency: Spray foam roofing provides excellent insulation by minimizing energy loss and reducing heat transfer. This means lower heating and cooling costs, making it an environmentally sound and cost-effective system.
Seamless Waterproofing: Traditional roofing systems have seams and joints, but spray foam creates a seamless and waterproof barrier, eliminating the potential for leaks and costly damage repairs.
Durability and Longevity: Spray foam is known for its exceptional durability. It can withstand extreme weather conditions, including high winds, hail, and, with the addition of an approved coating, UV radiation. With proper, low-cost maintenance, a spray foam roof can last for decades, providing you with a great long-term investment.
Versatility: Spray foam roofing can be applied to a multitude of roof substrates, including metal, concrete, tar, and single-ply membranes. It conforms to all shapes and is self-flashing, making it an ideal solution for irregular or complex roof designs.
Eco-Friendly: Spray foam roofing reduces energy consumption, decreases the need for heating or cooling, and minimizes waste during installation, making it a very environmentally friendly choice.
Spray Foam Roofing Coatings
Several types of coatings can be applied over a spray foam roof to enhance its performance and extend its lifespan. These coatings serve various purposes, such as providing additional protection against UV radiation, improving waterproofing capabilities, and enhancing the roof's aesthetics. Here are some common coatings used for spray foam roofs: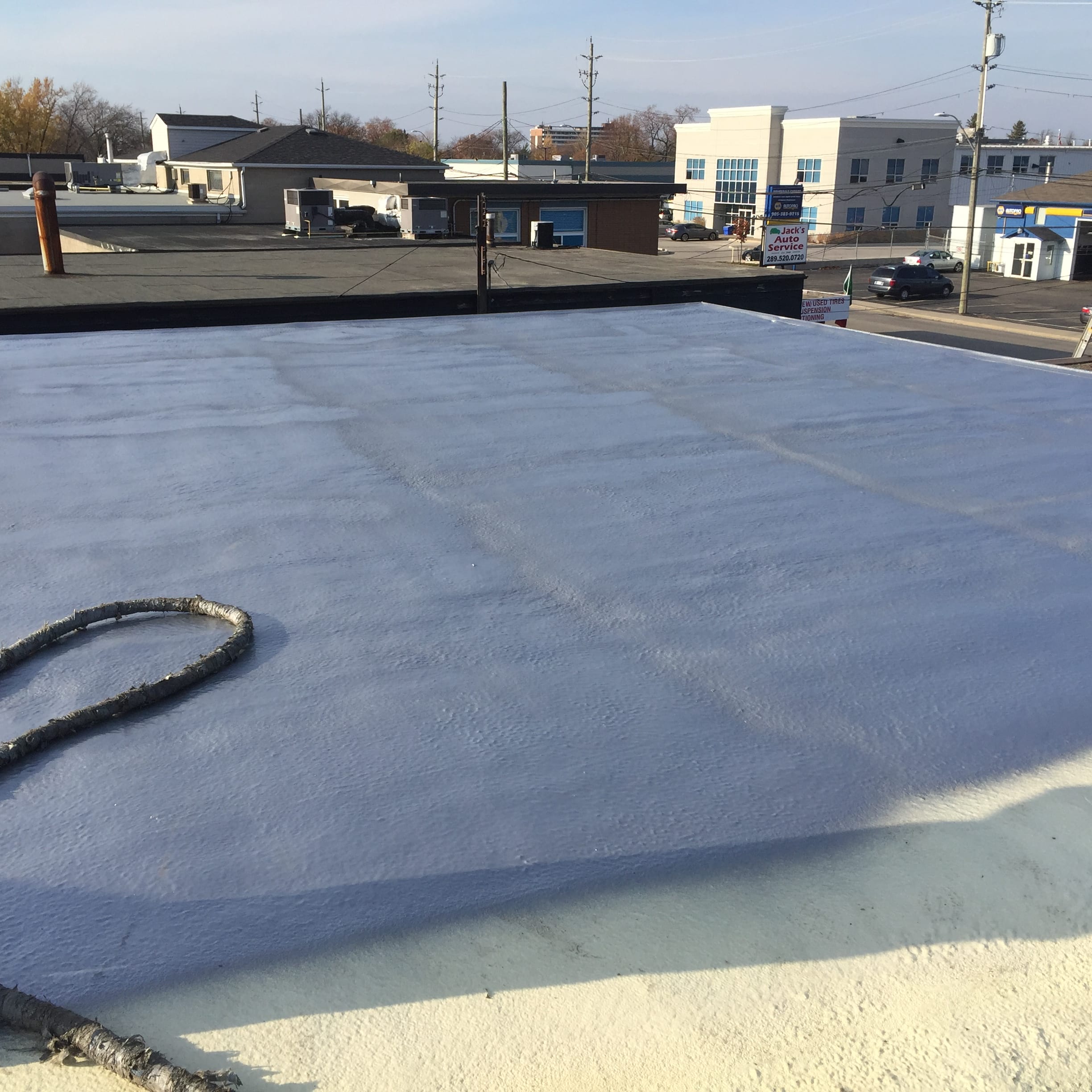 Acrylic Coatings

Acrylic coatings are water-based and provide excellent UV protection. They reflect sunlight, reducing heat absorption and extending the life of the underlying spray foam. Acrylic coatings are available in different colors and can improve the appearance of the roof while offering additional waterproofing properties.

Silicone Coatings

Silicone coatings are moisture-cured and highly flexible, making them ideal for spray foam roofs. They offer exceptional resistance to UV radiation and weathering, preventing premature aging and degradation of the foam. Silicone coatings also provide excellent waterproofing capabilities and are self-flashing, meaning they create a seamless barrier without the need for additional flashing materials.

Polyurea Coatings

Polyurea coatings, mentioned earlier, can also be used as a protective layer over spray foam roofs. They offer outstanding durability, chemical resistance, and waterproofing properties. Polyurea coatings are highly flexible and can accommodate the expansion and contraction of the underlying foam without cracking or peeling.

Elastomeric Coatings

Elastomeric coatings are rubber-like and provide excellent elongation and flexibility. They are applied as a thick, seamless membrane that protects the spray foam from the elements. Elastomeric coatings are known for their crack-bridging ability, which helps maintain the integrity of the roof even under temperature fluctuations.
It's important to consult with a professional roofing contractor to determine the most suitable coating for your specific spray foam roof, considering factors such as climate, budget, and desired performance attributes.
Why Choose Spray-Tech for Spray Foam Roofing?
Our highly trained team will handle any size project with efficiency and professionalism. We customize our roofing solutions to your individual needs, and use the highest quality materials to ensure the job is completed to your satisfaction.
Don't take it from us. See what our customers have to say.
We love the difference Spray-Tech insulation made to the area we had done! There was no mess and the service was very professional. We highly recommend this company and will use them for any future insulation needs!

Deborah Henderson


Spraytech Insulation insulated my roof. They were really competitively priced, super professional and great to deal with. They were efficient, polite and made sure they cleaned up after their work. I would not hesitate to use them again and can't recommend them enough.

Maggie Begg


The best home insulation firm I have ever hired!My old man recommended them to me and it was one of the best referral I have ever got!Very smart and brilliant team,came did the estimates and totally delivered ,I Frankly have no complaints at all since everything was delivered and done better than I expected!Keep up the good work guys

Jayden Mike


They've been cleaning our houses for the past 5 to 6 years and have always kept their word and done an excellent job. We don't even seek quotes or contact other companies because we know they will take care of us!

Rosalie Molly


Great people, great experience. Had my sunroom spray foamed. Awesome job!!

Stephen Watson


Spray tech insulated the exterior walls in my home and did an insulation removal job in my attic. They were very efficient and professional. I wouldn't hesitate to use them again. Highly recommend

Michelle Laframboise